Volume up, size down.
No matter how you like to hold your card/cash, you'll find the right one from one of the 4 configurations of the series. 
Zenlet 3 Series reduces the volume of traditional wallets by 60%. You'll never have to compromise on what to carry in your pocket.
*The image shows Zenlet 3 Pro Max containing 2 contactless cards, 7 RFID-protected cards(up to 13 cards max), 8 coins, and 8 cash.
Perfect for Pockets and Hands
The Zenlet 3 Series is designed for ease of use with a single hand. 
Not only does it fit comfortably in your palm, but it also has the perfect dimensions for all types of pockets. 
You can carry it with ease in your suit pants, jeans, jackets, or even shirts.
Details Everywhere.
Timeless Simplicity and Harmony
As Leonardo Da Vinci said, "Details make perfection and perfection is not a detail." 
The Zenlet 3 Series went through countless iterations, sampling, and inspections to achieve the perfect arched corners and aesthetic appeal. 
It's the attention to detail that sets the Zenlet 3 Series apart.
Sophisticated Texture
The surface of the Zenlet 3 Series is full of intricate details as well. 
The finest zircon sandblasting and specialized anodic treatment gives the wallet a refined metallic texture that you won't be able to resist touching.
Minimalist Aesthetic.
Functional and Uncluttered
For an even more intuitive experience, all unnecessary decorative designs have been eliminated, 
leaving only a notch on the top as the focal point. The design speaks for itself, guiding you through its use.
A Cleaner Look
There are no visible buttons! 
The design and engineering team took on the challenge of internalizing all complex structures in a limited space, 
determined to present the simplest profile for minimalists.
Single-Handed Slide & Close.
Auto-Fan-Out with One Click
With just one click, the Zenlet 3 will do the rest. 
It frees up one hand to tackle any situation while you're running errands, showing off a smooth and composed style at the same time.
Push & Close in a Second
Say goodbye to zippers, buckles, and Velcro in 2023. 
Secure your items with ease with the Zenlet 3 Series, which can be closed with one simple push of your palm.
Easy Card Access.
Zenlet 3 Series does not only array out the cards for you, but it also automatically adds a 15° ergonomic upward angle, 
providing just enough space for you to go through cards and access them.
Identify your Cards with One Glance.
Zenlet 3 Series is different from the hard-shell wallets we often see in the market. 
The space between cards is just right, allowing you to easily identify and locate your desired card.
Mute Storage For a Silent Pocket.
No more clicking sounds from keys and coins! 
The specially developed Mute Storage layer minimizes the noise when closed. 
Enjoy your walk, run, or dance with Zenlet 3 Series in complete peace of mind.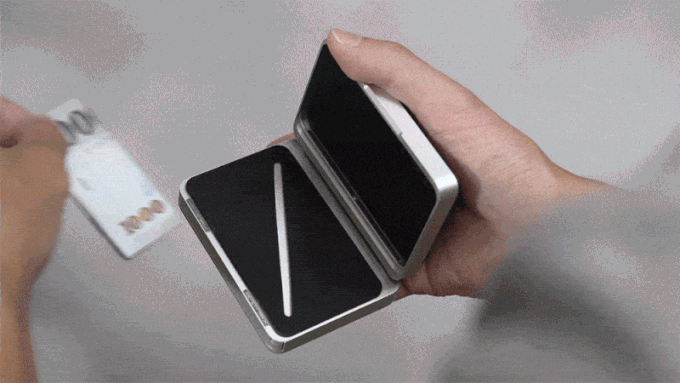 Cash Layer
The opening of Cash Layer is designed diagonally, perfect for inserting bills single-handedly. 
It adds a sense of security while opening the wallet.
Effortless Card-Switch for Tap & Go Areas.
With just a quick slide of your thumb, changing your contactless cards has never been easier. 
Say goodbye to the hassle and hello to effortless card switching.
Magnetic Module with Quick Snap-On.
The Magnetic Structure.
Zenlet 3 Series is given with a magnetic structure that allows you to snap on the panel of your choosing on both sides. 
Just attach the panel with your card inside(or not), it is secured yet flexible to change it up anytime you want.
Double-Sided Modular Design.
Unleash your creativity and never settle for a boring wallet again. 
With the double-sided magnetic module, the possibilities for color, texture, and patterns are endless. 
Express your individuality with ease.
Aerospace-grade integral aluminum alloy.
Crafted with the utmost precision, the Zenlet 3 wallet is made with aerospace-grade aluminum alloy, 
cut to perfection with high RPM cutting CNC machines, and verified with microscopes.
Anti-scratch glass panel.
As the key item to embody your style, it has to be more than aesthetically pleasing. 
We carefully selected Gorilla Glass as the material, with its outstanding scratch-resistant ability, 
it's going to withstand the test of time and stay visually appealing.
Custom-Made for perfection.
In pursuit of perfection, we do not compromise. 
From screws to every other part, everything is custom-made to ensure precision and a perfect user experience.